Endpoint management
The Endpoint management dashboard is used to view and manage your endpoints.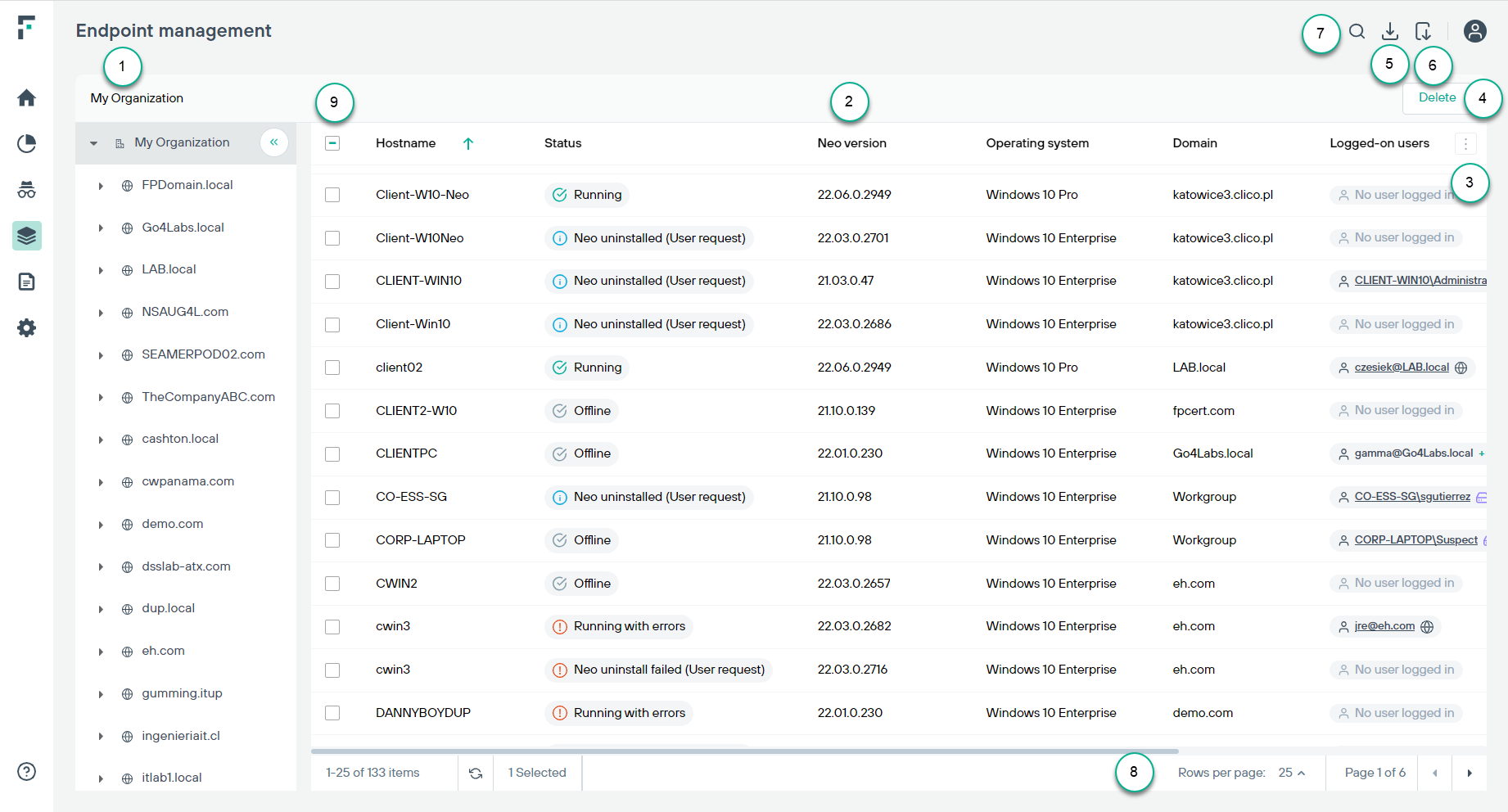 1

My Organization

: Displays all the endpoints in your organization. Click a row to view details about each device. The system tree structure is based​ on Active Directory OUs.​

2

Properties

: Displays the

Hostname

,

Status

,

Neo version

,

Operating system

,

Domain

,

Logged-on users

,

Last communication time

(the last time each device communicated with the system), local Installation time,

Forcepoint F1E version

,

Forcepoint DLP version

, and

Web control connection

(PCEP or DCEP) for each device. Click a property to sort by that property.

3

Column selector

: Click the dots to open the column selector. Used to configure which columns to display in the table. Host name and Operating system is always displayed in the table; all other columns can be hidden or displayed as needed.

4

Delete

: Select the box against each host name and right-click

Delete

to remove the endpoints from your dashboard. This action will not uninstall Neo endpoint. Removing the endpoint will revoke their certificate and stop communication with the cloud within the next 24 hours.

5

Download Neo

: Click to download the latest version of Neo endpoint installer.

6

Export to CSV

: Export the endpoint details to a CSV report.

7

Search

: Used to search all devices.

8

Rows per page

: Select the number of rows to display from the drop down.

9

Click the box to select all the endpoints listed in the page as a bulk and click

Delete

.
For users logged in as analyst, the Logged-on users field will be unlinked.