Neo endpoint
The Forcepoint Neo endpoint settings tab provides options for better management and troubleshooting of the endpoints to administrators. Administrators can now control Forcepoint Neo endpoint operational mode from the Cloud Portal, for advance troubleshooting and compatibility with 3rd party applications.​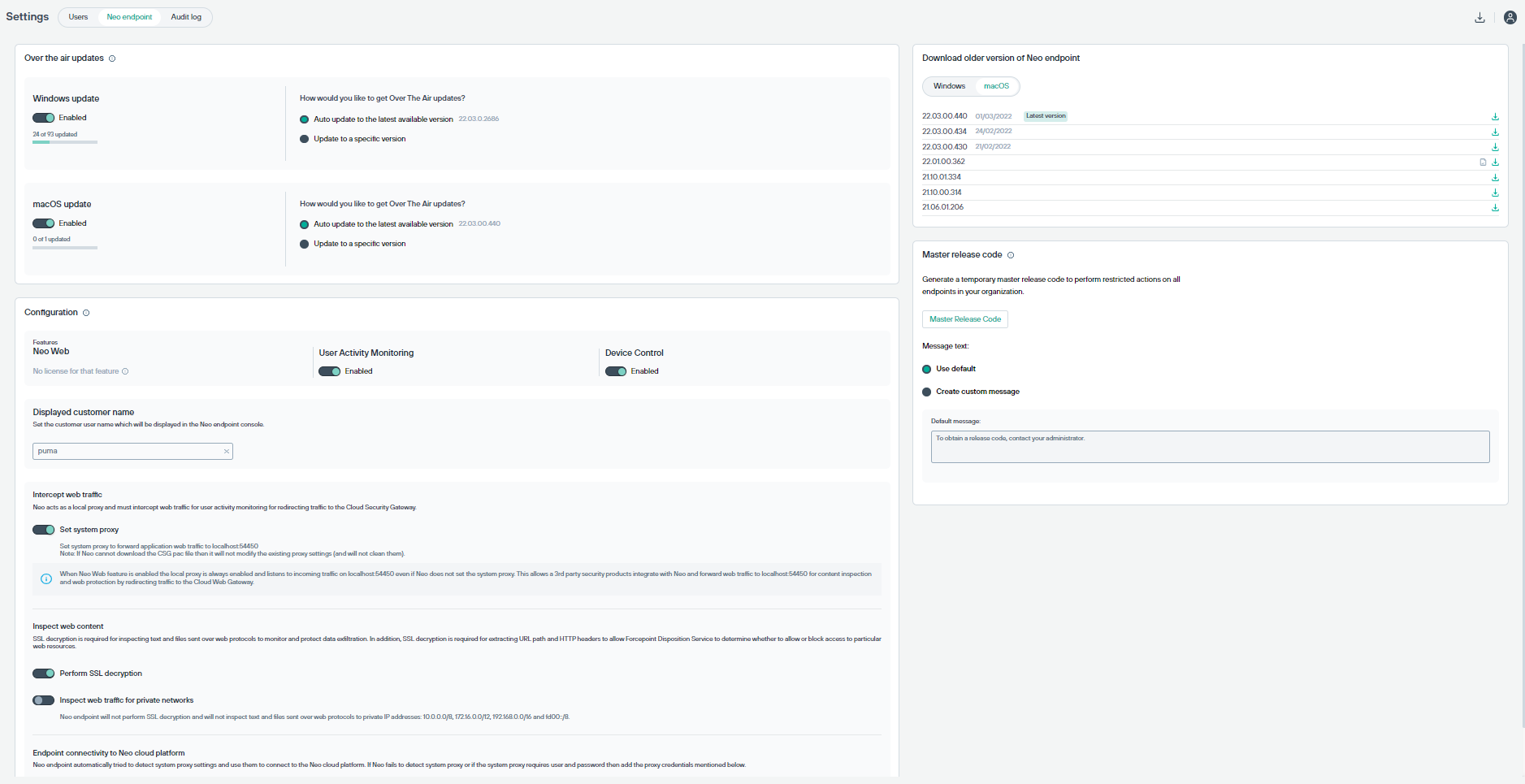 Over the air updates
The settings allow administrators to control which Forcepoint Neo endpoint software versions are pushed to the endpoints.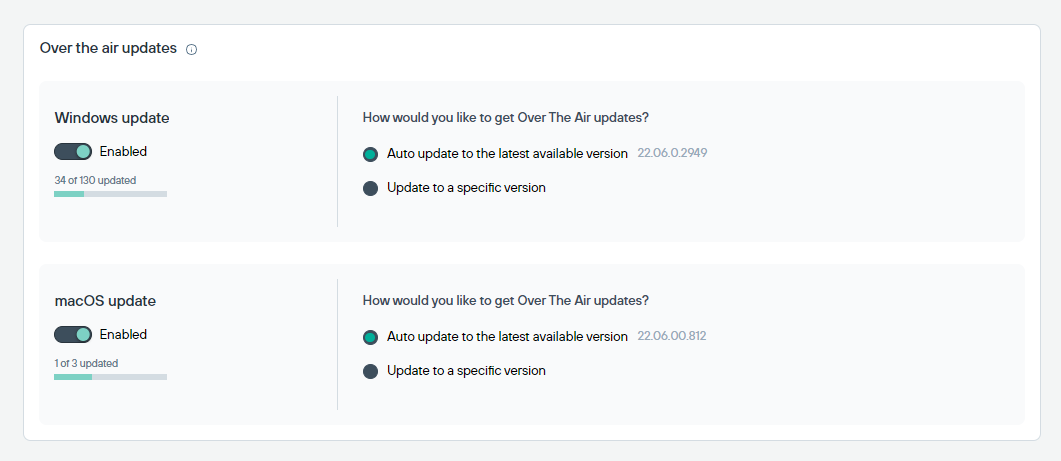 Configuration
Administrators can control all of the following from the Configuration widget: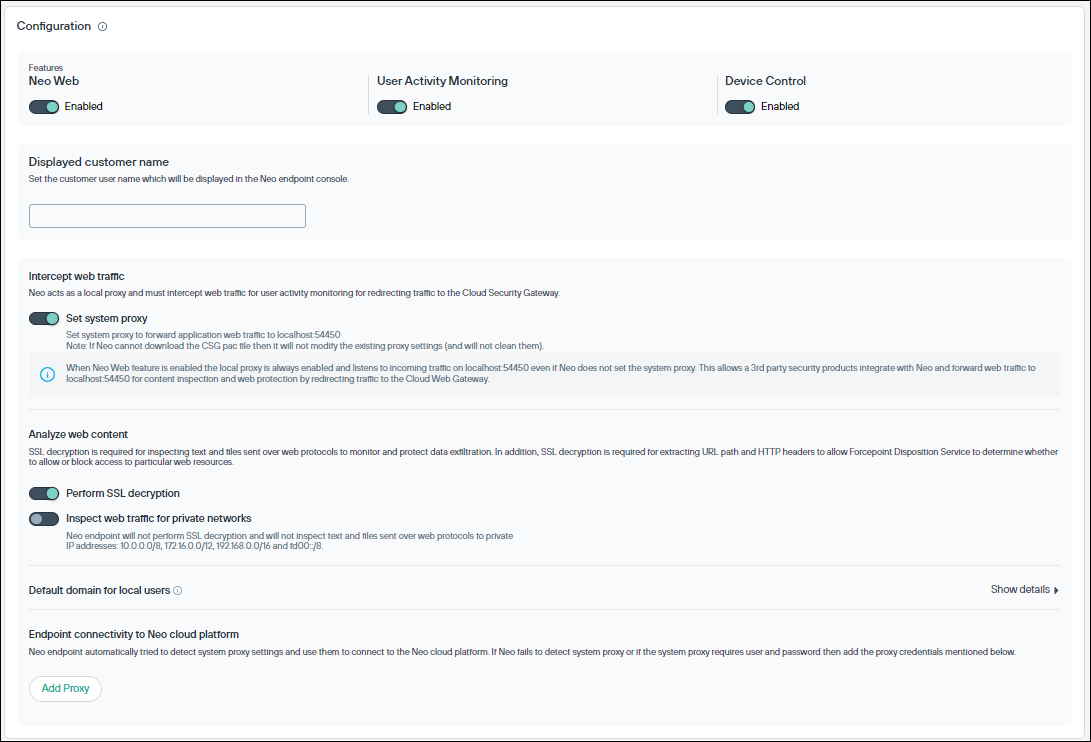 Features

: Control which products get enabled on the endpoint based on licenses. It can be the Neo Web, User Activity Monitoring, and Device Control.

Displayed customer name

: Set the customer name that is displayed on the

Neo

endpoint console.
Intercept web traffic Control traffic forwarding from

Forcepoint

Neo

to the

Forcepoint

Forcepoint Cloud Security Gateway

.

Note:

This configuration is applicable only for the

Forcepoint Cloud Security Gateway

customers (with Neo Web).

Analyze web content

for SSL decryption. SSL decryption is required for inspecting text and files sent over web protocols to monitor and protect data ex-filtration. In addition, SSL decryption is also required for extracting the URL path and HTTP headers to allow the

Forcepoint

Disposition Service to determine whether to allow or block access to a particular web resources. Administrators can go to and disable or enable SSL decryption on the endpoint. Also, by enabling or disabling the

Inspect web traffic for private networks

option, for web traffic sent to private IP addresses, the

Neo

endpoint can be set to not perform SSL decryption.

Default domain for local users

:

Forcepoint Cloud Security Gateway

uses the down-level logon name of the end-user to determine which web protection policy to enforce on web requests. When the end-user logs in as local user (common in macOS), there is no domain part in the down-level logon that Neo endpoint sends to

Forcepoint Cloud Security Gateway

. Using the option to set

Custom domain name

, administrators can provide a UPN domain name and an NTLM domain name.

Endpoint connectivity to Neo cloud platform

: Control the endpoint connectivity to the

Neo

cloud platform. Allows manual configuration of proxy settings for proxies that require authentication.

Note:

Once you make a change, the

Neo

installer will be updated with the proxy configurations. If you face issues in connecting the

Neo

endpoint to the cloud (due to proxy that requires authentication)- you should download the installer package again (after setting the proxy) and reinstall the same on the endpoint.
Download older version of Neo endpoint
Select and download specific Forcepoint Neo endpoint versions.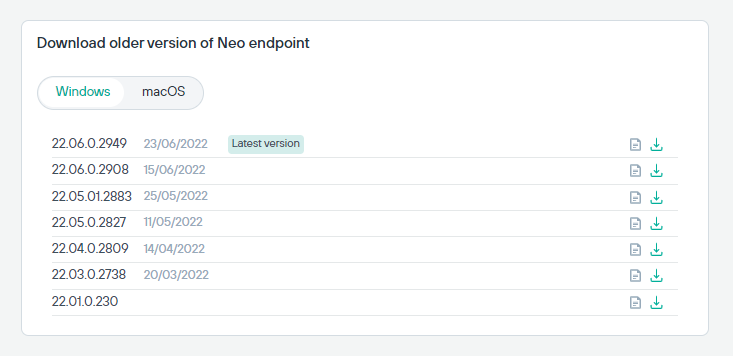 Master release code
Generate a temporary master release code to perform restricted actions on all endpoints in your organization.